New Delhi.
The country's well-known industrialist, Ratan Tata, has received the TiECON Mumbai 2020 Life Time Achievement Award. Known for his value in the business world of India, NR Narayana Murthy, co-founder of Infasys, presented him with this award. At the same time, after handing out the award, Narayana Murthy received blessings by touching Ratan Tata's feet. Ratan Tata warned emerging investors at the TiECON Awards ceremony in Mumbai, saying investors who drown money will not get a second or third chance. He told him, the old-fashioned business will gradually weaken. That is why the young founders of innovative companies will be the future leaders of Indian companies in the new era.
Those who sink money will not have a second or third chance
Tata, who has invested in e-commerce company Snapdeal, said business ethics must be followed. The way to shine at night should be avoided. He said that startups need guidance, mentorship, networking and recognition. Investors who disappear by drowning the money won't get a second or third chance.
Infosys co-founder Narayana Murthy said during this time that pension funds and banks should also invest in Indian startups. A positive environment for start-ups cannot be created solely on the basis of select investors. If maximum funds are to be raised for them, then pension funds and banks will have to come forward to invest.
There are many compliments on social networks.
After touching Narayana Murthy's feet, people praised him fiercely on the social media platform Twitter. A user has written that this is a very beautiful sight. The best example of company and culture has been presented.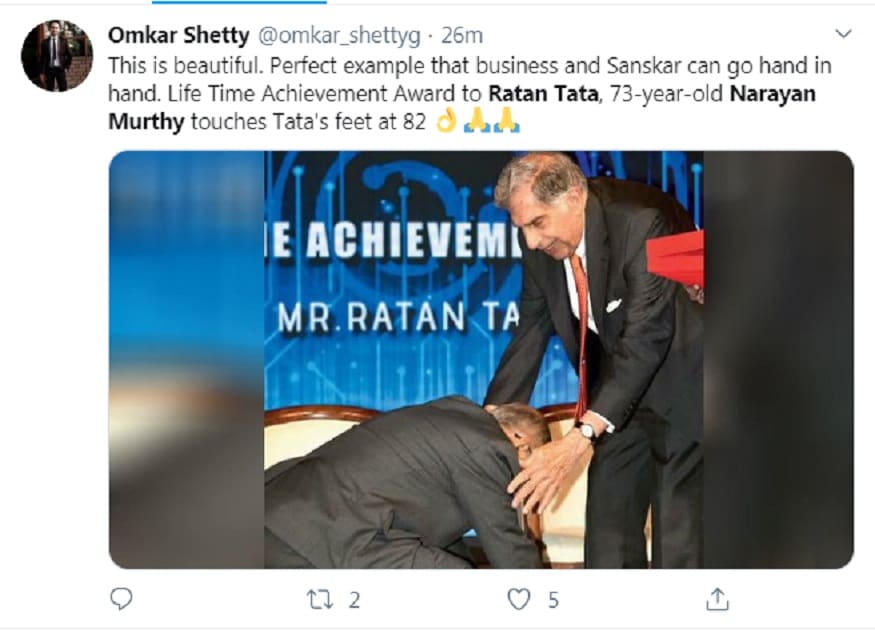 At the same time, some people have called this moment the best movie of this year.
Who is Narayan Murty?
Narayan Murthy's full name is Nagavar Rama Rao Narayan Murthy. He was born on August 20, 1946 in Shidlaghatta, Chikkabalapura district of Karnataka.
Narayana Murthy was born into a very simple family in South India. After finishing his studies, he obtained a Bachelor of Electrical Engineering from Mysore University and did his MTech from IIT Kanpur.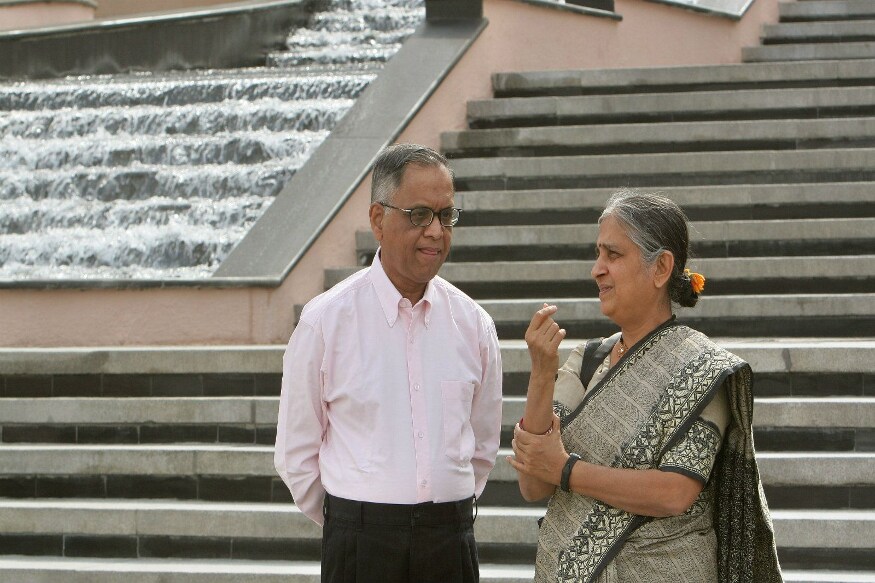 Narayana Murthy with his wife Sudha Murthy…
Narayan Murthy faced many types of financial crises during his engineering studies. Dr. Krishnamurthy's teaching of Narayanmurthy helped a lot in these difficult situations. Narayanmurthy later started a fellowship in his name on economic recovery.
Prior to founding Infosys, Narayan Murthy was the Chief Systems Programmer at IIM Ahmedabad. After this, he founded a company called 'Softtronics', but it was not successful. After that, he joined Patni Computer System based in Pune.
After this, Narayan Murthy along with 6 people founded Infosys in 1981. He started Infosys with Rs 10,000 from his wife Sudha Murthy. Narayan Murthy was CEO of Infosys from 1981 to 2002. It is also the first Indian company to be listed on NASDAQ.
Also read: Modi government's focus will be on jobs in the budget, these big announcements may beundefined
Be the first to read the latest news in Hindi GKTodayCurrentAffairs.Com | Today's latest news, live news updates, read the most trusted Hindi news website GKTodayCurrentAffairs.Com |
Tags: business news in hindi, Narayana Murthy, N. R. Narayana Murthy, daddy rattan, sudha murty
PUBLISHED FOR THE FIRST TIME : January 29, 2020, 10:08 IST
,