New Delhi.
To get rich, you don't have to have a very high salary or always do profitable business. One can also get rich with a low salary and few savings. This requires that you invest money in the right place and at the right time. However, only a few people can choose the right path of financial planning. That is why, in the new year, we are talking about good financial planning. The country's great financial experts say that before investing blood and sweat you have to know the requirements for each month, age, salary, risk profile and investment plan.
If you save Rs 3,200 every month and get a 10 per cent return on this amount, then after 30 years you will have around Rs 72 lakh Rs 94 thousand. So instead of saving the amount of savings in the payroll account, save it in another savings account. Invest that money in different places.
Various post and bank savings schemes are the easiest and safest option. Along with this, the stock market, mutual funds, PPF, insurance and LIC are good return options.
Today we tell you about 7 such options, where you can get rich by investing.
(1) Stock Market- The bullish phase in the stock market continues. Sensex and Nifty are constantly reaching new heights in this boom. But in the market boom, retail investors often complain that they missed out on making money in the market rally.
Now the question arises with what strategy ordinary investors can earn money with low risk. However, if we are talking about guaranteed returns, then there is no guarantee of returns in the stock market.
But if the right investment is chosen, your money can grow faster than other asset classes in a very short period of time.
Also read: Now there will be no need to go to a bank branch, SBI provides these 14 services through an ATM
Whenever you invest in stocks, keep in mind that your investment should be diversified rather than putting the money in one place. This reduces risk.
If you are an aggressive investor, then the stock market may be a better option. You need to open a demat account on this.
Making money in the stock market is considered the most difficult, but a person has made a huge net worth of Rs 10,000 crores with a capital of Rs 5,000. This Indian is Rakesh Jhunjhunwala, popularly known as Warren Buffett.
Rakesh Jhunjhunwala works on the theory of buy well and hold firm. They usually say that you should invest in business and not in any company. Also, be happy with your gains, but accept your losses with a smile. Read the market correctly and know the history.
Porinju Veliath of Equity Intelligence India, which has delivered annualized returns of 33 percent over the last 12 years. It is clear that if he had invested Rs 10 lakh in 2002, he would have had Rs 3 crore today.
This is why Forbes has included Porinju in the list of Wealth Wizards. Porinju has bought shares of Balkrishna Paper in the last quarter. His participation in the company has gone from 1.02% to 1.06%. At the same time, it has reduced the stake in IZMO from 1.23 percent to 1.18 percent.
Also Read: PM Modi Will Give A Gift Of Rs 14,000 Crore To Rs 7 Crore Of Farmers Today!
(2) Mutual Funds
The stock market boom attracts all investors to it. But his nervousness increases with the risk of the bag.
In such a situation, investing money in mutual funds can be a good option for investors. Experts say that money from mutual funds is also invested in the market, but in this market, a well-informed person does this work for you, which reduces market risk.
Mutual funds are a better and safer option to increase wealth in today's age. Through mutual funds, the investor has the opportunity to invest money in different stocks or asset classes.
This diversifies the investor's portfolio. Investment in mutual funds is done under the supervision of a qualified fund manager, so the risk is low. It has 3 segments Equity, Debt and Hybrid.
To choose the right mutual fund, you must first decide what your investment goal is, how much you can invest, and how long you can stay in it.
If you have to invest for a year or two, there will be separate mutual funds for that. If you want to invest for 5, 7, 10 years or more, there will be other mutual funds for that.
It's clear that choosing the right mutual fund depends on what your investment holding is. For example, if you are investing for the short term, you can choose a debt fund or a liquid fund. On the other hand, if you are investing for the long term, then equity mutual funds will be right for you.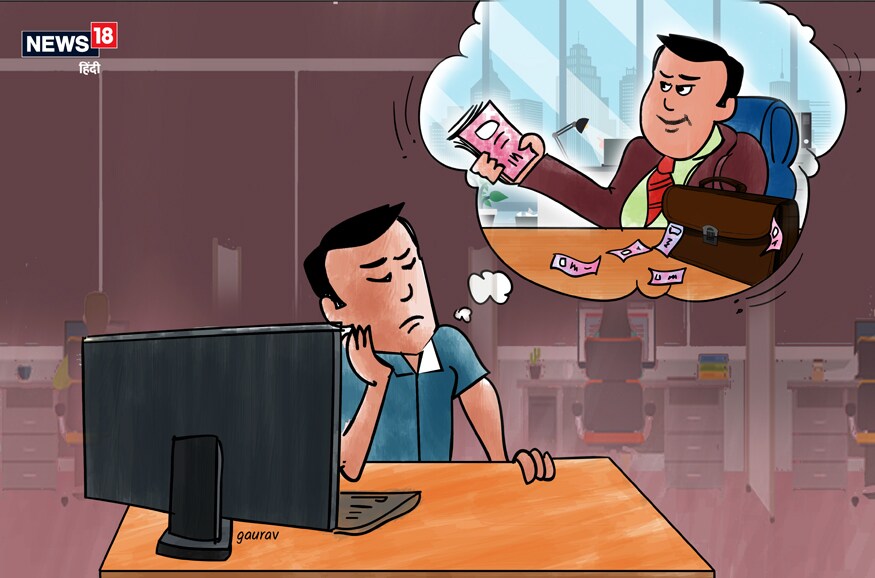 government guaranteed earnings scheme
If you find investing in the stock market and mutual funds risky, then you can take advantage of the government's small savings plans.
(3) Post Office Monthly Income Scheme (POMIS)
The Post Office Monthly Income Plan is a better investment option, providing an opportunity to earn monthly. It has guaranteed returns, where your money grows at a fixed interest rate. It earns interest at a rate of 7.6 percent per year. In this, a person can invest Rs 1,500 to Rs 4.5 lakhs, while the investment limit in the joint account is Rs 9 lakhs.
Also read: Great news for job seekers! The government can change these license-related rules
(4) National Pension System (SNP)
The National Pension System is being administered by the Pension Funds Regulation and Development Authority (PFRDA). It is a better option for retirement planning, in which you can arrange monthly pension through investment, while lump sum fund is also available. Here your investments are placed in FDs, stocks, corporate bonds, government funds and liquid funds. Investments made in it can also take advantage of tax exemption under section 80C income tax.
(5) Public Provident Fund (PPF)
PPF is one of the most popular investment instruments in India. The PPF account can be opened at a bank or post office. It has a maturity term of 15 years. This account can be opened with Rs 500 and the maximum amount that can be deposited in a fiscal year is Rs 1.5 lakh. It can be further extended for another 5 to 5 years. Interest is currently received on the PPF account at a rate of 7.9 percent per annum.
Also read: Which bank is paying the highest interest in FD in the new year? Check here immediately
(6) FD- Fixed Deposit
Bank fixed deposit is a very popular means of investment in India. The FD account can be opened at any bank or post office. You have the option to invest from 7 days to 10 years. In this, your money is deposited at a fixed rate. It is placed in the low risk investment category, where the risk is very low. Most banks offer interest between 6% and 8% on 5-year FDs.
(7) Invest money in gold (Gold Investment)
Keep at least 5 percent of your portfolio in gold. Gold prices rose 22 percent in 2019 due to the US-China trade war and various changes. However, due to improving conditions regarding the US-China trade war, gold prices have also recently dropped. But due to many more fundamental reasons, gold is likely to remain bullish.
Also Read: Is The Note In Your Pocket Real Or Fake! Scan it with your phone and find out!
Be the first to read the latest news in Hindi GKTodayCurrentAffairs.Com | Today's latest news, live news updates, read the most trusted Hindi news website GKTodayCurrentAffairs.Com |
Tags: business news in hindi, Financial planning for people with irregular income, financial planning tips, money making tips
PUBLISHED FOR THE FIRST TIME : January 03, 2020, 08:31 IST
,