New Delhi.
If "Out of Stock" is written in front of a product, then this is a word that every businessman likes to hear, because the purpose of every company is to make money by selling their product. What more is needed if your product is liked. Ankur Jain Founder of Bira91 (Bira91) is the name of that person, whom people know for his creative thinking and the amazing results of it. The first production of Bira 91 started in Madhya Pradesh and Nagpur. In just 5 years, Bira 91 began to be sold in more than 15 cities in India. The valuation of the company, which started in the year 2015, is now approaching Rs 2 billion.
After starting the business, the father had stopped talking- Ankur Jain, founder of Bira 91, says that when he launched this drink, he was not sure that people would like his drink that much and demand for it would increase that much. This company started in February 2015. His father also stopped talking to him because of his entry into the liquor industry, but with his success he also gained the trust of his father and family.
Ankur Jain, founder of Bira 91, says that when he launched this drink, he wasn't sure people would like his drink that much. Ankur Jain graduated with a computer science degree from Chicago. His father was not in the business, but he was quick to learn new things and realized very quickly that there were many income opportunities in the beer industry, due to the lack of options in the market.

Beera in the Bira Portfolio 91 There are seven brands, including White, Beera Blonde, Beera Light, Beera Strong, The Indian Pale Ale, and the recently launched Boom Classic and Boom Strong. Boom Strong is 6-8 percent alcohol by volume and 650ml is priced at Rs 130.
In Karnataka, the brand is giving stiff competition to Kingfisher Strong, UB Export Strong, Carlsberg Elephant and Tuborg Strong. The manager of an alcohol retail store in Bangalore said, "Beera's boom is booming. Its price is equal to UB Export Strong.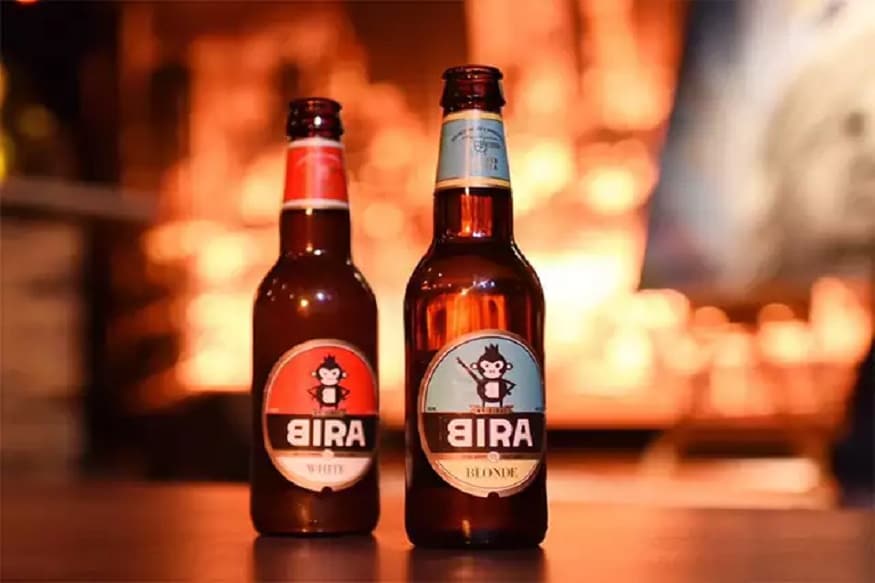 Beera 91's portfolio comprises seven brands, including Beera White, Beera Blonde, Beera Light, Beera Strong, The Indian Pale Ale, and the recently launched Boom Classic and Boom Strong.
The company has three contract breweries in Nagpur, Indore and Kovur in Andhra Pradesh. Another plant in Mysore will be commissioned next month. In the 12 weeks since its launch, 5 lakh boxes of Bira have been sold. The company's presence has increased in Delhi, Haryana, Madhya Pradesh, Uttar Pradesh, Maharashtra, Karnataka, Pondicherry and Andhra Pradesh.
However, there will be a long way to go to reach the level of the UB Group. UB Group has 31 breweries. AB InBev, the world's number one company in terms of beer, has 10 breweries in India and Carlsberg India has eight.
That's how it started- Jain, who returned to India from New York in 2007, did not have any experience in the spirits business, but in 2015, considering the taste, flavor and quality of the country's youth, he introduced a product that became India's favourite. in just two years, the beer became the brand.
At the time Beera was launched, Kingfisher was on the market. With this in mind, Jain launched Biera91 with quality packaging and quality of international beer brands in mind. From here, he progressed his success car.
Bira91 became an instant hit. By 2015, their sales had increased to 150,000 cases. In 2016, this figure exceeded 7 lakhs.
According to Ankur Jain, a 330ml bottle of Bira 91 Lite has only 90 calories, less than a glass of milk or orange juice. In this form, it is quite light in calories and healthier than milk.
Bira 91 sales crossed Rs 150 crore in 2016-17. 91 in Bira 91 is the country code for India. The manufacturing units of the company are located in Indore and Nagpur.
Consumers also like strong beer, so this brand is growing rapidly. The strong beer category is growing rapidly. Various brands are being introduced in the premium and non-premium segments.
So when a brand like Bira 91, which is popular with urban youth, launches another strong beer after Bira 91 Strong, the company is expected to focus again on the premium segment.
However, Jain has taken a different path and has decided to enter the lager segment. Jain said: "Our previous products are quite premium. Our 330ml bottles cost Rs 90-100 in Karnataka and Rs 130-140 in Maharashtra.undefined
Be the first to read the latest news in Hindi GKTodayCurrentAffairs.Com | Today's latest news, live news updates, read the most trusted Hindi news website GKTodayCurrentAffairs.Com |
Tags: business news in hindi, success story, successful businessman
PUBLISHED FOR THE FIRST TIME : August 07, 2020, 12:50 IST
,