New Delhi.
Saving for the future at any time, we often forget to think about rising inflation. In such a situation, when our savings drop due to inflation, then we have no choice. Keeping this in mind, today we are going to talk to you about a way where you can create a huge amount by saving just 100 rupees every day.
Invest in SIP
In the era of falling interest rate, investing in mutual funds can become a better option than FD (fixed deposit). Investing in mutual funds can give very good returns. For this, you can deposit Rs 3,000 or Rs 3,100 in a month at the rate of Rs 100 per day under the Mutual Fund Systematic Investment Plan.
Also Read: Great ED Action! Seizure of property of former ICICI Bank CEO Chanda Kochhar
You will be able to invest Rs 9 lakh
According to the SIP calculator, if you continue to invest this way for the next 25 years and expect a 15 percent return, you can earn a sizable return in that time. In these 25 years, you will invest a total of Rs 9 lakh at the rate of Rs 3000 every month.
You will get a return of Rs 98.5 lakh
Now looking at the return of 15 per cent on this amount in 25 years, you can get a total of Rs 98.5 lakh on the invested amount. Your return on this amount will be Rs 89.5 lakh and the remaining Rs 9 will be the amount invested by you.
Also read: In 6 years, the person who invested Rs 6 lakh here became a millionaire!
It will also help deal with inflation.
If we look at the return of this amount taking into account inflation at a rate of 6 percent over 25 years, then you can get a total of Rs 33.9 lakhs on an investment of Rs 9 lakhs. This will include the Rs 9 lakh invested by you and the return of Rs 24.9 lakh. In general, by saving 100 rupees a day, you can accumulate a considerable amount in 25 years, beating inflation.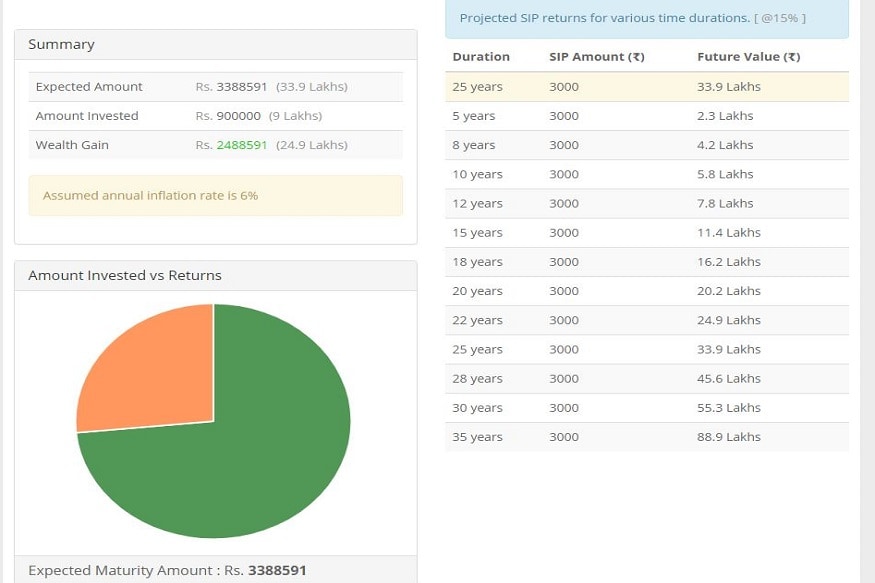 Why SIP is better
You can invest in mutual funds according to your convenience and income. You can invest a minimum of Rs 500 per month in mutual funds. Explain that investing in SIPs also provides the benefit of compound interest. Understand in simple language, your first month's profit is added to your capital, this increases your investment. The longer you invest money in this plan, the more benefit you will get.
Also read: In the budget, the government can again reduce the corporate tax by such a percentageundefined
Be the first to read the latest news in Hindi GKTodayCurrentAffairs.Com | Today's latest news, live news updates, read the most trusted Hindi news website GKTodayCurrentAffairs.Com |
Tags: business news in hindi, how to earn money, Investment fund, Investment funds, Mutual Fund SIP Yields, SIP, Small Savings Plans, Systematic Investment Plan (SIP)
PUBLISHED FOR THE FIRST TIME : January 11, 2020, 06:51 IST
,