New Delhi.
after 4 months of fall
The bullish trend in the stock market continues. The Sensex has gained 10 percent from the lower level. Seeing these returns, ordinary investors also begin to be attracted to the stock market, but their nervousness increases due to market risk. In such a situation, investing money in mutual funds can be a good option for investors. Experts say that money from mutual funds is also invested in the market, but in this market, a well-informed person does this work for you, which reduces market risk.
First of all, you need to decide what the purpose of your investment is.How much can you invest and how long can you stay in it? If you have to invest for a year or two, there will be separate mutual funds for that. If you want to invest for 5, 7, 10 years or more, there will be other mutual funds for that.
It's clear that choosing the right mutual fund depends on what your investment holding is. For example, if you are investing for the short term, you can choose a debt fund or a liquid fund. On the other hand, if you are investing for the long term, then equity mutual funds will be right for you.
Get more returns than FD- According to data provided by Moneycontrol, investors in small-cap stock mutual funds have seen returns of more than 10 percent in the past month. At the same time, if you look at the FD yield, it's only 5 percent.
What should we do now- Such The Systematic Investment Plan (SIP) allows you to make regular investments in mutual fund schemes. Experts say that this is the most efficient way to invest in mutual funds. There are certain conditions that must be met to start investing in SIP. These are described below. The SIP should be started according to the type of scheme, its performance, portfolio and objectives. KYC must be completed before starting SIP. It should always be up to date. Investors can start SIP both offline and online.
Also Read- PM-Kisan: Modi Government Sent This SMS To Farmers Before Giving Rs 2000
Investors can also invest in a lump sum with SIP instructions. If any changes are made to the SIP instruction, the SIP must be started again. For this, it may be necessary to redo the entire process. The content of this page is courtesy of the Center for Investment Education and Learning (CIEL). Contributions by Girija Gadre, Aarti Bhargava, and Labdhi Mehta.
You can start SIP sitting at home How to get started offline: For this, the investor needs to fill out a form. It can be obtained from the bottom house. There is also an option to download it from the fund house website. In this, an automatic debit NACH mandate must also be completed.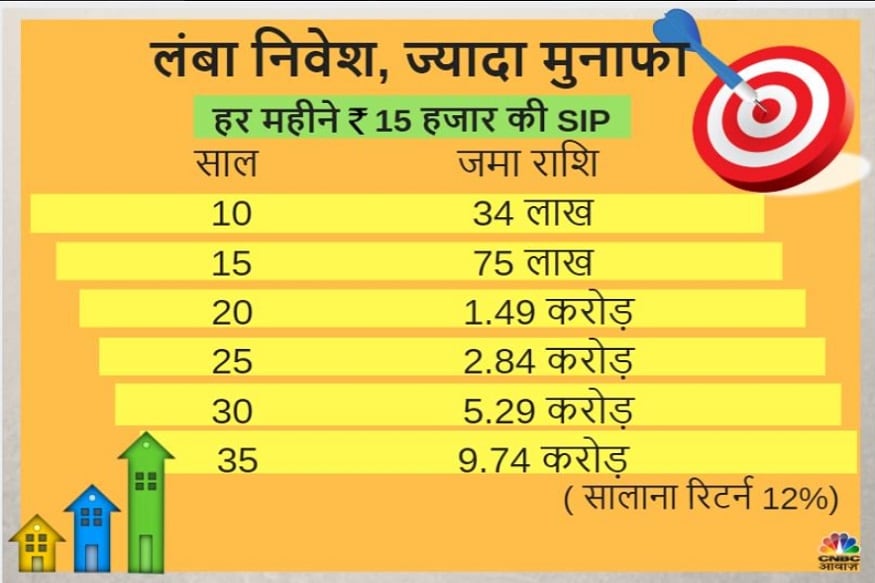 Apart from this, a copy of the canceled check must be attached along with the KYC documents. These KYC documents include proof of address and identity. These documents can be presented at the Investor Service Center or at the AMC branch.
The SIP online way can also be started online. These options are available for this. The Fund House Website SIP can be started using the Fund House Website i-SIP facility by entering your personal details, SIP and bank details. Upon completion of the data, a URN will be generated.
read this too-Crude oil is cheaper than water, why did gasoline become more expensive by 5 rupees in 10 days?
After this, the investor will need to log in to their bank account. They can then add the mutual fund as a 'biller'. URN will be required to enable the SIP statement.
Dealer Portal – Mutual fund dealers, such as corporate dealers or banks, provide portals for online mutual fund transactions. SIP can be easily launched through these portals. If the bank mandate for automatic debit is already registered in the portal, then it can also be used for SIP.
Mutual Fund Trading Portal: There are many types of mutual fund trading portals. These include portals provided by the fund house registrar or by the MFU (Mutual Fund Utility) platform. SIP can also be started using these platforms.
It is important to know about NAV-Suppose you invest Rs 10,000 in a mutual fund scheme. Your NAV is 200 rupees. In this situation you will get 50 units. How? If you divide 10,000 by 200, you get 50. 10,000/200=50. You get these units by investing in the scheme. These units have the greatest importance in buying and selling.
Now suppose the NAV increases from Rs 200 to Rs 250 in a year and you decide to sell it. What will happen then? Now you will get Rs 12,500. Multiplying 50 units by 250 will make this amount. 50*250=12500. But one thing has to be noted here. Suppose the exit charge is charged at a rate of one percent, then now you will get just Rs 12,375. The formula is: 50 units * Rs 247.50 NAV – Departure load.
Therefore, NAV is the value of the assets of the mutual fund scheme, which is arrived at after deducting the liability per unit. NAV displays the total value of all securities held with cash. As you have seen, it is calculated on a unit basis, in which all liabilities are deducted.

If the price of most of the securities in the scheme increases, then the NAV will also increase. If it decreases, then the NAV will decrease. That is, the NAV fluctuates with the prices of the securities in the scheme. Securities mean both equity and debt instruments. This includes stocks, bonds, debentures, commercial paper, etc.
In general, if the scheme invests well, your NAV will increase. That is, the value of the investment will increase. If the investment of the scheme decreases, then your NAV will also be affected.
Also read- Good news for job seekers – With this EPFO ​​decision, it is now easy to withdraw moneyundefined
Be the first to read the latest news in Hindi GKTodayCurrentAffairs.Com | Today's latest news, live news updates, read the most trusted Hindi news website GKTodayCurrentAffairs.Com |
Tags: business news in hindi, mutual fund investors, Investment funds, Mutual Fund SIP Yields
PUBLISHED FOR THE FIRST TIME : June 17, 2020, 06:14 IST
,